While creating Page Template (If you are new to Dynamics 365 portal, you can check about Page Template here) in Dynamics 365 portal, I noticed the type validation was not working (It should hide Rewrite Url field when Web Template is selected under Type field).
Please refer our earlier article for setting up Dynamics 365 trial if you want to set up a Dynamics 365 trial and you can refer this KB to provision portal in your trial.

First thing I checked if there is any javascript function available under event for Type field but did not find any event associated and then I checked if there is any business rule attached to this field and found following three business rule in the deactivated state.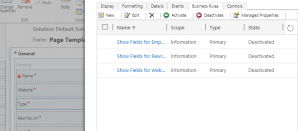 After activating above business rule Type validation started working fine.

Hope it will help someone !!