Introduction
Dynamics 365 allows us to delete our data in bulk. We can define query to select target data which we want to delete. We can also schedule if require and configure notification by providing email, which is used to send notification once bulk job is completed. If you are new to bulk deletion job then you can check this for more details.
Issue
Recently I wanted to delete some data from the sandbox environment using bulk deletion job but when I created bulk deletion job it is cancelled automatically. If you are facing similar issue this can help you.
Solution
If you are getting your bulk deletion job cancelled automatically make sure to check first thing if your environment is in Admin mode.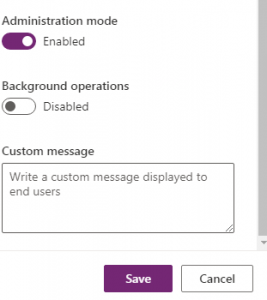 You can check your environment from the Admin center. Navigate to admin.powerplatform.microsoft.com/environments and click on your environment, after that you can click on Edit button and verify if admin mode is enabled or disabled. If it is enabled, disable Admin mode. If you don't have access to Admin Center ask your environment Administration to disable this setting for you.
Hope it will help !