Requirement
Custom Entity should be visible in the Modern Advanced Find.
Details
Some time back Microsoft introduced Modern Advanced Find (New name of the Advanced find) which is enabled now if you have installed wave 2 updates in your D365 environment and classical Advanced Find will be hidden. This will be confusing to end users if they are not aware of these changes, it will be like
By default wave 2 will remove advanced find button and Modern advanced find can be opened like below:

When you will click on this link it will open like a side dialog where it will show list of the entities which is available in the current app.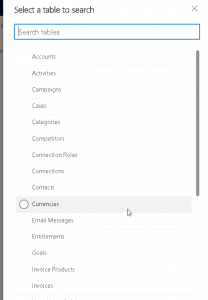 This list will only show entities which is included in your current app for example sometimes we have some entities that we are not displaying anywhere and if user wants to access those entity they have to open it from Advanced Find, for example I created one custom entity called HIMBAP Demo and when I use classical Advanced Find I can see my entity like below: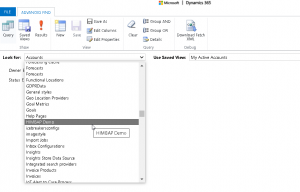 but you will notice 3rd image from top, you won't see this entity there so to make this entity available into the new Modern Advanced Find list I have to add my entity under the Sales Hub app and it will be visible after that.
And when any entity selected from the list it will open home page of the entity with filter editor for you to apply your conditions like below: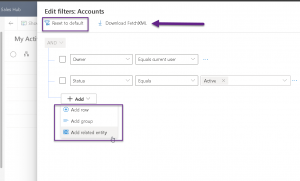 In above dialog you will see similar options to design your query, you can include related entities, you can download your FetchXML.
At present if you want you can disable to new Modern Advanced Find from admin portal. Navigate to admin portal settings and disable this setting.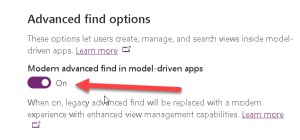 Summary
This is how we can enable/disable new Modern advanced find experience after installing wave 2.
Hope it will help someone !!
Keep learning and Keep Sharing !!