This is article is part of our new Dynamics 365 features series. In this article we are going to discuss new enhancements in Business Process Flow. Business process flow is one of the process category that we can use to automate our business related activities. Business process flow is different from other processes in terms of the visualization. It visually represent current status of our business process and provides many other features. If you are new to business process you can refer msdn KB for more details. Now let's see what is new in business process flow.
Business Process Type
Now if you will design new business process flow, you will find two option for selection. One option is to design task flow, which is just for Mobile only and the second options for other clients. In Dynamics CRM 2016 task flow was a preview feature and was only available if preview is enabled for your organization.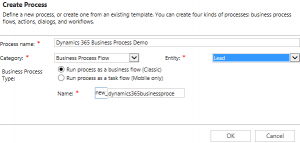 But now this option is available as a full feature in Dynamics 365.
New Designer
Similarly to business rules designer, business process flow also have new designer now with completely new look and feel with drag and drop feature.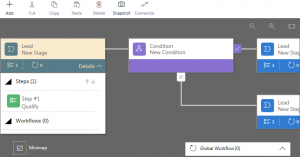 A new tool bar is introduced with edit buttons, connector and a new snapshot button to take screen shots of your business process flow design which can be used in technical documentations.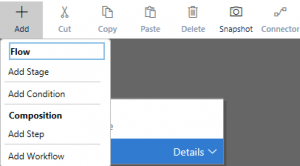 Now business process flow controls can be added using Add menu or we can drag them from Components tab. Once controls added we can set it's property using Properties tab.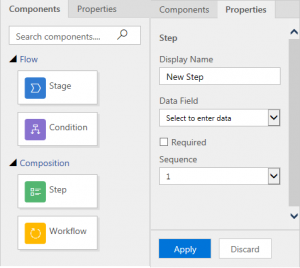 Workflow
This is an awesome added to business process flow. This was a common requirement to implement some logic on stage changes and if you have similar requirements then there is good news for you. Now we can initiate workflow on Stage Entry or Stage Exit. We can select workflow from workflow lookup or can created workflow on the fly using New button. Keep in mind we can only select on-demand workflow to use in business process workflow, so your automatic workflow won't be available under workflow lookup.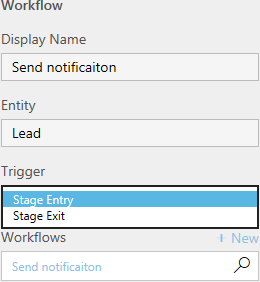 Stage Active Duration
This was very common requirement in CRM implementation to know total time for a stage being in active state. Now we have this feature out of the box, you can see duration details in business process flow itself. Next Stage button is also in new place now. You will also notice a new color for business process flow bar.

Run Business Process Flow Simultaneously
Dynamics 365 allows to use more than one business process flow simultaneously. We can have more than one business process flow and can select them. Similar to earlier version we can switch to different process and CRM will remember details about old business process. We also see details about another process if it is already started or not.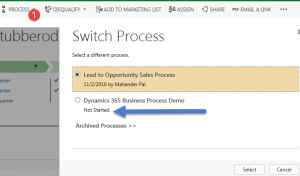 We can also see Archived Process details, which will list out all the completed and abandon business process flows.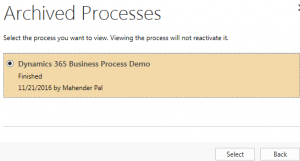 Now we can abandon business process flow any time based on requirement and reactivate them if required later.

Stay tuned for more Dynamics 365 New features !!